Pro-Tip 1: Safely prepare your veggies and prevent accidents by securing your cutting board. To stop your cutting board from sliding around on the counter, place a damp paper towel underneath the board.
Pro-Tip 2: Greens can last up to two weeks in the refrigerator if you wash, dry, and wrap them in a dishcloth or paper towel before putting them in the fridge. This makes them ready for immediate use.
Pro-Tip 3: Fresh ingredients enhances any dish. Try to keep a small herb garden at home. Fresh spices really make a big difference when it comes to taste!
Pro-Tip 4: Food scraps can be the secret ingredient to a flavorful meal. Herbs stems, bones, butts, and skins can be used to infuse dishes with immense flavor. Save any scraps in a plastic baggie and stick them in the freezer. In the future, you can bring them out to make stock, braises, and broths.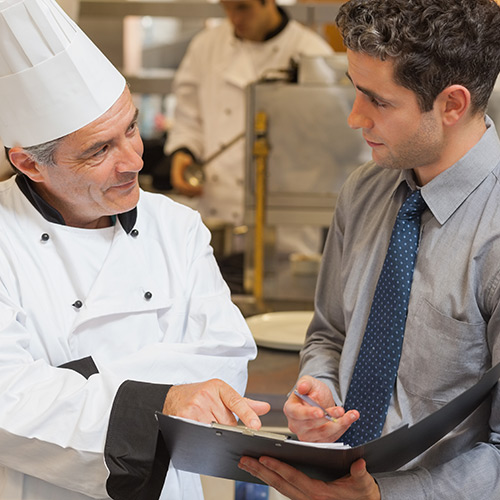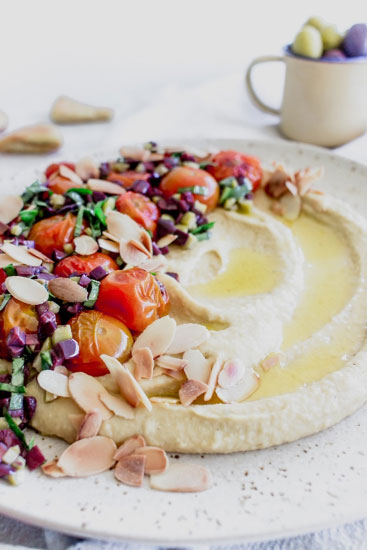 Recipe of the Month

Greek Hummus Board
Serves 18
Ingredients
3 packages L'oven Whole Wheat Pita Bread
3 containers of SimplyNature Organic Hummus Classic
12 mini cucumbers
3/4 cup of Happy Farms Preferred Feta/Reduced Fat Feta Cheese Crumbles (optional)
3/4 cup of Tuscan Garden Pepperoncini Peppers
3/4 cup of Tuscan Garden Large Pitted Olives (optional)
1 1/2 red pepper
1 1/2 cup of grape tomatoes
3 teaspoon of Greek seasoning
drizzle of Carlini Extra Virgin Olive Oil
sliced almonds
parsley to garnish
Directions
Start by cutting pita bread into triangles (6-8 pieces per full pita) and drizzle with olive oil and a pinch of Greek seasoning. Then, bake at 350 degrees for 8 minutes or until golden brown. When you remove the pita from the oven, sprinkle with chopped parsley, and let cool.
While waiting for the pita to toast in the oven, chop mini cucumbers, pepperoncini, and red pepper. Then cut grape tomatoes in half. Set aside. Next, scoop hummus onto a large tray and use a spoon to create a divot through the middle, or spread along the board, similar to the photo. Sprinkle with the chopped and halved veggies.
Add crumbled feta, drizzle with olive oil and more Greek seasoning, and garnish with a handful of toasted garbanzo beans. Then, add toasted pita points to the hummus board and it's ready to serve.
Drink of the Month

Tropical Rum Punch
16 servings (depending upon glass size)
64 ounces Mango Cranberry Juice
1 cup Peach Schnapps
1 cup Fresh Raspberries
2 Oranges Sliced
6 cups White Strawberry Cranberry Juice
2 cups Orange Juice
1 1/2 cups Coconut Rum
1 gallon cubed Ice (not crushed)
Garnish
1 cup of Raspberries
3 Limes Sliced
1 cup Strawberries Sliced
Mint
Instructions
Place raspberries and limes in a 1.5-2-gallon drink dispenser.
Pour mango cranberry juice and peach schnapps over the fruit and gently stir.
In a separate pitcher, mix the white cranberry juice, orange juice and coconut rum together.
Chill both containers in refrigerator until ready to serve.
Before serving, fill the larger drink dispenser with ice. Pour the second layer from the smaller pitcher slowly and directly on top of the ice.
Gently add some raspberries, sliced strawberries, and limes in the center.