Tips from the Pros
How to Successfully Cater Events During the Summer



Tip 1: Always Have a Rainy Day Plan
Weather makes catering during the summer tricky. Make sure that you have a kitchen tent, for shade or protection from the rain. If you fail to secure an indoor option, you will have to end up renting a tent in the end. Stay two steps ahead by having your rental company on speed dial, they can reserve a tent for you. Most companies will let you cancel your reservation 24 hours in advance if the rain stays at bay.
Tip 2: Ice, Ice, and more Ice
Due to the summer heat, guests will consume more ice at outdoor events. Play it safe and account for approximately 5-6 lbs of ice per person. Cocktails, ice buckets, and the customers will stay cool during the entirety of the event. You can never have too much ice!
Tip 3: Watch the Temperature
Food is prone to spoiling during transportation due to warm temperatures. Limit the amount of time food spends in a transport vehicle. When you arrive at the venue, get the food into warmers or coolers immediately. Check the food to make sure that every item is at its proper temperature.
Tip 4: Avoid Danger Foods
Certain foods are prone to spoiling faster than others: potato salad mixed with mayonnaise and fish or shellfish. Avoid food items that will require extra attention from you and your team. Keep items like this in mind when you prepare the menu.
Tip 5: Don't Forget About the Lighting
Don't leave your guests in the dark once night falls. Light up the night with string lights on the deck or party area. You could also place hurricane or tea lights around the table to keep the party going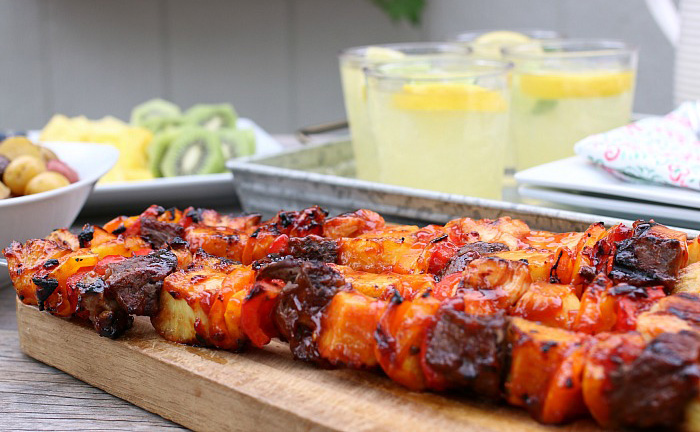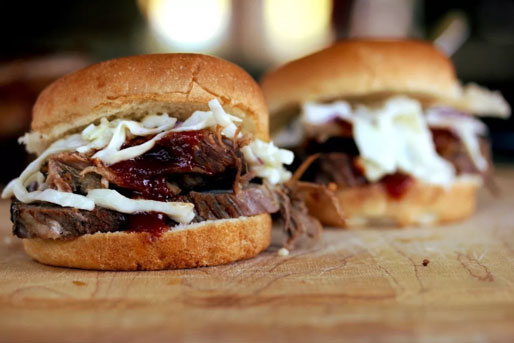 Recipe of the Month

BBQ Sliders
Serves 40
Ingredients
7 1/2 cups ketchup
2 1/2 cup packed brown sugar
2 1/2 cup picante sauce
2 1/2 cup dry red wine
1 1/4 cup balsamic vinegar
2 tablespoons Worcestershire sauce
1/2 teaspoon salt
1/2 teaspoon pepper
1/4 teaspoon ground allspice
1 beef sirloin tip roast (4 pounds)
4 garlic cloves, sliced
16 Kaiser rolls, split and toasted
2 cups deli coleslaw
Directions
Mix the first nine ingredients in a bowl.
Cut the roast in half and cut slits in roast. Insert garlic.
Place in a 5-qt. slow cooker. Pour the sauce mix onto the roast. Cook, covered, on low until tender (Approx. 8-10 hours.)
Remove the beef and skim off any fat from the cooking liquid. Shred meat with two forks and return the meat to the slow cooker and heat through. Serve on rolls with coleslaw.
Freeze option: Freeze cooled meat mixture and sauce in freezer containers. To use, partially thaw in refrigerator overnight. Heat through in a saucepan, stirring occasionally.
Drink of the Month

Blue Lemonade
20 servings (depending upon glass size)
Ingredients
1 ½ cups of Deep Eddy Lemon Vodka
2 cups of Frostie Blue Cream Soda
5 Tbsp Fresh Squeezed lemon Juice
Fresh Ripe Blueberries
1 2/3 tsp of granulated sugar
lemon peel for garnish
sprig of fresh mint
Instructions
In a cocktail shaker or large glass add Deep Eddy Lemon vodka, Frostie Blue Cream soda, freshly squeezed lemon juice and stir until ingredients are good and mixed.
Fill a glass with ice cubes and topped it with blueberries.
Pour cocktail mix over the ice and blueberries.
Dust the berries with granulated sugar.
Garnish the cocktail with a lemon peel and a fresh sprig of mint.
Enjoy!