Tip 1: Keep Bugs Out
When it comes to outdoor catering you will usually encounter some unwanted guests. Plan to protect your customers and food from insects. You can keep the food safe by utilizing containers with lids in between servings. Protect your clients by providing netting, candles, or zappers that combat pest interference.
Tip 2: Windproof Table Setting
Avoid chasing paper plates and napkins around the venue! Weigh them down with decorative stones or shells. You can secure the tablecloth to each table by using magnets to anchor the corners. This will ensure that all your decorative efforts will not go to waste.
Tip 3: Stay Cool
When choosing the layout at the event's venue, it is important to incorporate cooling stations. Choose to use a white tent instead of a black one to keep heat out. Bring misting systems they can cool down the temperature 10-15 degrees.
Tip 4: Bring the Proper Equipment
Having the right outdoor equipment for your venue will determine how your event will run.  If you cater outdoor events often, you should invest in mobile catering equipment that moves from one area to the next. Make sure you have an electrical power source, that will be useful for any refrigerators, cooking equipment, or lights. Even if the venue provides them, consider having your own generator and extension cords on hand.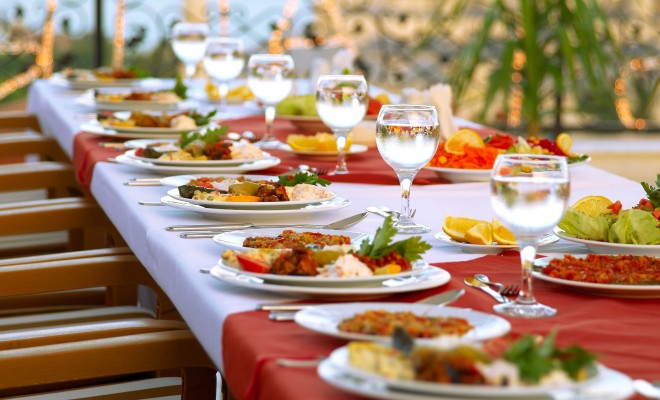 Recipe of the Month

Cream Cheese Stuffed Strawberries
Serves 24
Ingredients:
24 + large fresh strawberries (1 1/2 to 2 lbs, depends on how much you fill them)
1 (8oz) package cream cheese, room temperature or softened slightly
1/2 cup powdered sugar
1 tsp vanilla extract
1/2 cup fresh blueberries
Instructions:
Cut the stems from the strawberries, so the strawberries can sit cut-side down.
Cut a deep "X" from the tip down, being careful not to cut all the way through.
Beat the cream cheese, powdered sugar, and vanilla in a bowl with a hand mixer until nice and fluffy.
Gently open up each strawberry and pipe the filling inside using a pastry bag or zip-top bag with a star piping tip. Don't have a pastry bag or piping tip? Just cut off the corner of a zip-top bag and squeeze the cheesecake filling inside the strawberries that way.
Top each filled strawberry with a blueberry. These are best served after the strawberries have been chilled for at least an hour. Store in an airtight container in the refrigerator up to 3 days depending on how firm/soft the strawberries are.
Drink of the Month

Blue Slush Layer
20 servings (depending upon glass size)
Ingredients:
14 cups of ice
14 oz. of Blue Curacao
7 cups of homemade lemonade
*Blend together until smooth. Store in freezer until ready to build your cocktail.
White Slush Layer
14 cups of ice
14 oz. of Smirnoff Red, White & Berry Vodka