TIP 1: Research Marketplace
Scope out future competitors in your area and research to see what they offer their customers. This could include menus, any unique services, and most importantly, prices. Pay attention to their clientele and what types of events they cater. This will help you gather an idea of what clients in your area are looking for within a catering company. To compete in your local industry, you will not only need to sell food but sell a special experience as well.
TIP 2: Identify Your Target Customers
Use your colleagues as your resources to see what services their company or brand might require when working with a caterer. This will give you further insight into your customers' needs such as bar management, set up and take down, or food palette. Make note of how often your future customers are utilizing caterers and the budgets designated to catered events. This research will help you pinpoint your ideal customer and their needs. As a result, you will be able to provide them with what they need instead of what you think they need.
TIP 3: Focus on Your Passion
When starting out in an industry, the ideal strategy is to choose a niche, or a specific category with a unique set of customers. Focusing on one niche will help prevent burnout and will help you decide which events are relevant to your company. Whether you choose to be a wedding caterer or focus on providing food for festivals and concerts, start there and become an expert in that market. This will give you time to get a few events under your belt and develop a recurring client base.
Tip 4: Create a Staffing List
Aside from providing amazing customer service, choosing your staff is one of the most important things you can do for your business. Remember, your team is a constant representation of you and your brand and can ultimately make or break your business. When building your team choose individuals who embody a few of these characteristics:
• Dependability
• Availability
• Customer Service Oriented
• Detail Oriented
• Trustworthy
• Most important, hire people who value integrity and provide each client with excellent service.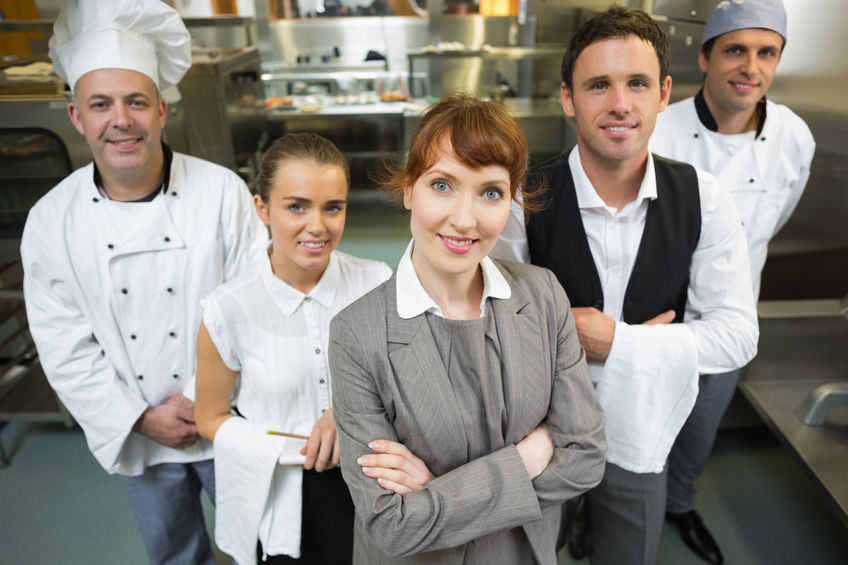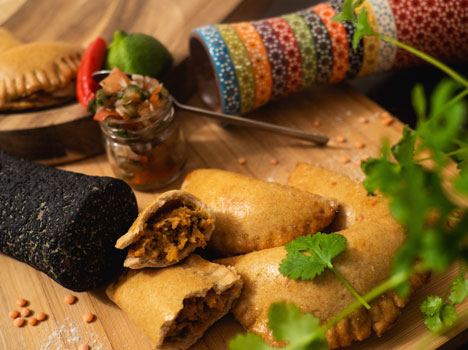 Preparation:
Make the dough first: In a large bowl, sift together the flour, masa harina, baking powder, and salt. Stir in the melted butter.
Gradually add 1/2 cup to 3/4 cup of water, working it in with your hands to incorporate; the dough should be easy to handle and not sticky. If the dough appears to be dry add a bit more water, as needed. Form the dough into a ball, wrap it in plastic, and chill for 30 minutes.
Meanwhile, place a large skillet over medium flame. Add the ground beef, and cook, stirring for 5 minutes, until the meat gets browned. Add the onion and garlic and continue to sauté until the onions sweat and become translucent. Add the diced red pepper, green bell pepper, diced potatoes, and olives. Cook for another five minutes stirring occasionally.
Season the mixture with the spices. Add the Worcestershire sauce, and tomato paste. Mix thoroughly and cook and stir for 5 minutes, until the mixture is soft.
Pour in the broth and simmer for 3 minutes. Allow the filling to cool before stuffing the empanadas.
Once the filling has cooled remove the dough from the fridge. Grab some of the dough and roll it in between your hands forming it into a small ball, the size of a golf ball. Place it on a sheet of plastic wrap or a sandwich bag that has been cut at the sides. Using the palm of your hand squish the ball down and form it into a circle about 1/4 thick. Place a spoonful of the filling in the center of the dough circle. Fold in half and close the edges with your fingers. Crimp the sides to as to avoid any spillage during baking. Repeat with the remainder of the dough and filling. Placing the shaped and filled empanadas onto a baking sheet lined with parchment paper.
Whisk together the egg and water to create the egg wash. Brush each empanada liberally with the wash and bake in a preheated 350° oven for about 30 minutes, or until golden brown. Serve with creamy cilantro sauce (recipe follows). Enjoy.
Recipe of the Month

Beef and Potato Empanadas
Serves 20, increase proportions by 3 for 60 and by 5 for 100.
For the Dough:
• 1 1/2 cups all-purpose flour
• 1 cup of masa harina
• 1 tsp of baking powder
• 1 tsp of salt
• 1/2 cup of (1 stick) unsalted butter, melted and cooled
• 1 cup of water
• 1 large egg beaten with 1 tbsp of water, for egg wash
For the Filling:
• 1 tablespoon vegetable oil
• 1 1/2 pounds lean ground beef
• 1 onion, diced
• 3 garlic cloves, minced
• 1 red bell pepper, diced
• 1 green bell pepper, diced
• 12 large pimiento-stuffed green olives, chopped
• 3 to 4 yukon gold potatoes, or red (about 1/2 pound), peeled and diced
• 1 tsp of granulated onion
• 1 tsp of garlic powder
• 1/2 tsp of crushed red pepper flakes
• 1 tsp of salt
• fresh cracked black pepper
• 1/2 tsp of ground cumin
• 1 tsp of dried oregano
• 1 tsp of paprika
• 1 tbsp of Worcestershire sauce
• 1 tbsp of tomato paste
• 1/2 cup of chicken broth
Drink of the Month

Grapefruit Rosemary Sparkler
Serves 20
Ingredients:
5 quarts of fresh squeezed grapefruit juice
10 – 15 cups of sugar (based on desired sweetness for the simple syrup)
1 tsp of salt
5 tsp of lemon juice
5 tsp of vanilla
Rosemary sprigs, for garnish
Prosecco or club soda
Preparation:
For the grapefruit simple syrup:
In a medium saucepan, gently mix together the grapefruit juice, sugar, and salt.
Over medium-high heat bring the grapefruit juice to a boil, and then let simmer for 20-30 minutes, until the mixture is reduced to 2 1/2 cups.
Strain the grapefruit syrup to remove any pulp. Add the lemon juice and vanilla and stir until combined.
Add the 2 rosemary sprigs to the syrup. Let cool to room temperature, and then refrigerate until chilled. Remove the rosemary sprigs before serving.
To make the sparkler:
Pour the grapefruit syrup into glasses – 1/4 to 1/3 full (depending on taste preference). Fill the cup with prosecco or club soda, and top with ice. Serve with a fresh sprig of rosemary.