TIP 1: Focus on 1-2 Hot Items
Choose recipes thatdon't all need to be served hot. The hardest thing about prepping and cooking food in advance is making sure that everything is kept at the appropriate temperature. Serve dinner with only one to two things that need to be served popping hot. This will help ease stress in the food prep area and ensure that your clients are happy with their choices.
TIP 2: Prepare Ahead
Prep ahead more than you think you should. Do as much behind the scenes tasks as you can before your event starts. Make a timeline and be strategic about the tasks and responsibilities that take priority. You can never be overprepared.
TIP 3: Cancel the Buffet
Opt out of the buffet and resort to a more serving style. This eliminates a lot of moving parts and people. It also helps prevent accidents and regulatesthe food temperature with entrees and sides coming out fresh.
TIP 4: Know Your Attendees
Touch base with your coordinator or client to make sure that you are accommodating your attendees in the best way possible. Provide options for various diet restrictions: vegan, vegetarian, gluten free, etc.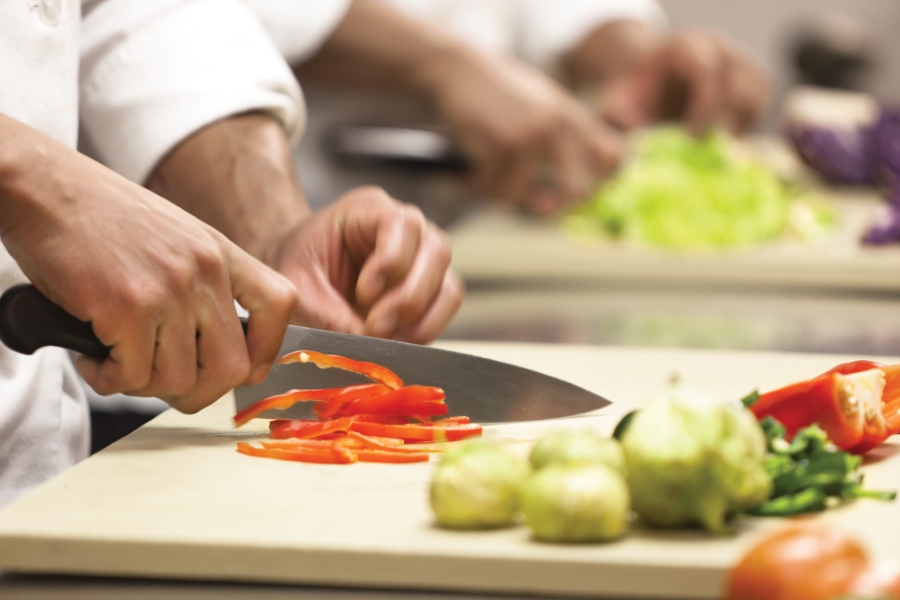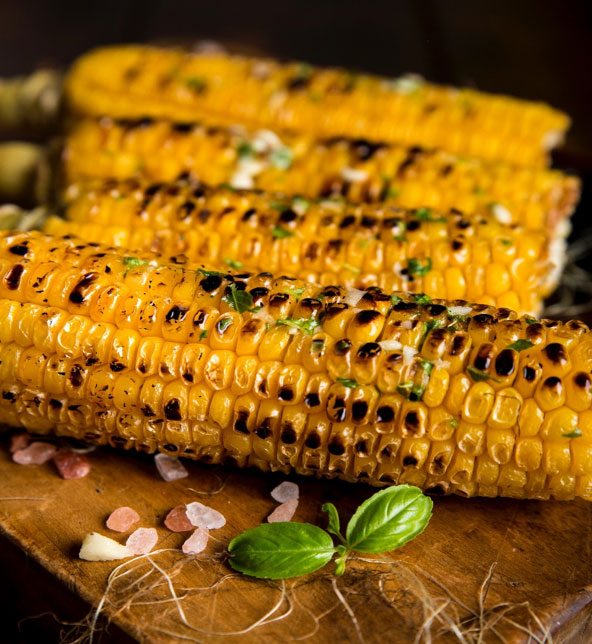 Recipe of the Month

Parmesan Grilled Corn
Serves 50 (ears cut in half) double to serve 100
Ingredients:
25 ears of fresh corn
10 tbl spoons of butter
5 cloves of garlic grated or minced
1 ¼ cups of freshly grated parmesan
5 tbl spoons of freshly chopped parsley
Directions:
Preheat grill to 375 degrees. Remove the inner silks leaving the outer husks still intact. Place husks back over the corn.
Place the corn on the heated grill. Turn every so often and cook until kernels are bright yellow (Approx 15-20 min).
While the corn is cooking, combine the garlic butter in a small bowl and microwave it until it is melted (Approx 10-15 seconds).
Remove remaining husks. Brush on the melted garlic butter mixture while the corn is still hot.
Sprinkle on parmesan and parsley.
Enjoy!
Drink of the Month

Cherry Sorbet Spritzer
Makes approx. six quarts of sorbet with 1 quart serving approx. 8-10 people.

Key Tips for the Sorbet:
The number one key to a good sorbet is starting off with good fruit. Choose the most fragrant watermelon, the juiciest peaches, or in this case, the sweetest cherries to use as your base. It is nice to know that fruits thicker in texture like berries and stone fruits, make creamier sorbets.
A sorbet is a simple combination of pureed fruit and sugar. The best way to add the sugar is through a simply made syrup. Keep in mind that freezing does (dull) sweet flavors. Make sure that the sorbet is slightly too sweet before freezing.
Cherry Sorbet Ingredients:
18 cups of pitted and chopped fresh cherries
3 cups of sugar
1 tbl spoon of fine salt
1/2 cup of lemon juice
1/2 cup of Chambord (plain vodka or rum can be used as a substitute)
Directions:
Place cherries, sugar, salt, and lemon juice in a saucepan over medium heat and bring it to a simmer. Cook and stir mixture frequently or until the cherries are broken down and soft.
Let the mixture cool to room temperature. Once cooled, place it in the bowl to be processed. Add in the Chambord.
Pulse the mixture until it is pureed to your desired texture. If you want a completely smooth sorbet, process it a little longer and or strain it through a mesh strainer to eliminate any leftover chunks.
Place the mixture in the fridge for at least an hour and then churn it in your ice cream maker!
We are now ready to freeze the mixture! Transfer it to an air tight container and freeze for at least four hours.
Wine Spritzers Ingredients:
The cherry sorbet
Chilled Rose wine
Chilled club soda or seltzer
Mint Sprigs for garnish
Other berries for garnish
Directions:
Allow sorbet to soften before scooping it into glass. Top each glass off with ¼ cup of rose wine or seltzer.
Enjoy!